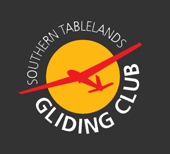 Welcome
Welcome to the Southern Tablelands Gliding Club Inc The STGC is located about 20km NE of Goulburn. It is one of the few locations offering winch launches, and only two hours south of Sydney, Goulburn is ideally suited to those who wish to learn to fly a glider or those who seek an exciting experience at an affordable price. The surrounding area is grazing country and cross-country flying is possible. All training is done in dual-controlled twin-seat aircraft by qualified instructors. We operate from a grass strip and fly Saturdays, some Sundays and Wednesdays, weather permitting. Gliding has operated at this location since 1971.
Visitors
We welcome visitors, either as pilots from other clubs or for Air Experience Flights. We also cater for groups who may want a flying day exclusively for themselves. Check out
which days we are scheduling to fly and who is flying
.
John Wilkinson finds orographic lift on his 11 Nov 2017 flight
The last flight of the day ... what a joy!
I had been very busy instructing all day in the back seat of our Bocian VH-KYU and it was time to pack up ... the fabulous lift of earlier had all but gone, the wind had turned cool, swung round from the East and strengthened considerably. It was 5.20pm, time to wrap up and this next flight was going to be the last for the day, likely a straight up and straight down hangar flight. I offered the opportunity to Brett Edwards ... his only chance of a flight as he had arrived late in the day. He very appreciatively accepted and we set about preparing for our flight.
With a 1600' launch I was thinking we might stretch this flight out to 5 min if we are lucky. Post-launch checks completed, we soon lost 300' fiddling with small bubbles of thermal lift and started thinking about getting ready to land. It was then I noticed that we had drifted some way towards the low ridge to the West of the airfield ... and we made the decision to use the last of our spare height to fly over to the ridge. Our hope was the strong Easterly wind should produce some ridge lift as it rose up over the hill. And Bingo! Brett steered KYU over the ridge of hills and found lift ... patchy at first, but enough to maintain altitude. Flying back and forth for 3 or 4 km a few times we explored different locations over the ridge line in order to find the best lift.
Finding constant lift up to 3 kts we soon found ourselves back at 1600'. Checking the windsock to confirm that the Easterly wind was still strongly established, we decided the conditions were right for us to fly further west to the
Cookbundoon range
and explore for ridge lift. We got there losing barely 50' in altitude and immediately found lift. The Cookbundoon Range extends North from our airfield for over 20km and the opportunity was there, beckoning us to go explore it in these unique conditions. But the reality was, it was now approaching 6.00pm, we had been in the air for 20 minutes and we needed to get back safely. So with a few departing circles in lift we headed back to the small ridge, joined circuit and Brett landed 2 minutes short of the half hour in the air. Brett and I were both amazed with what we had just experienced. Unexpected, challenging, exhilarating and joyful ... that's gliding.
John Z. reports on his Wave flight 13 August 2016
At the airfield on Saturday the wind speed on the ground was 15 to 20 knots, and was stronger higher up. Got a launch to 1800 feet, and then I headed off to the nearest cloud and got a rough narrow thermal at 1400'. Had to relocate into the centre of the thermal on a number of occasions because of the strong winds from about 250 degrees. Eventually got to cloud base at 5700', and then I gained some air speed under the cloud and flew out under the upwind side of the cloud and pulled up next to the wall of the cloud and found 2 to 3 kts lift and just keep climbing. As I gained height I had to start going over the clouds. Cloud tops were about 7000', and I was getting regularly to
8400'
. It was shear wave, but not totally smooth air. Once above the cloud tops I could see that there were a few cloud tops up to about 7800' , and these were the clouds I could climb up their sides. The thermals were rough (very rough at times) to work, but life was much easier once above cloud base. The thermal strengths were from 3 to 4 kts once established in the centre of the thermal.